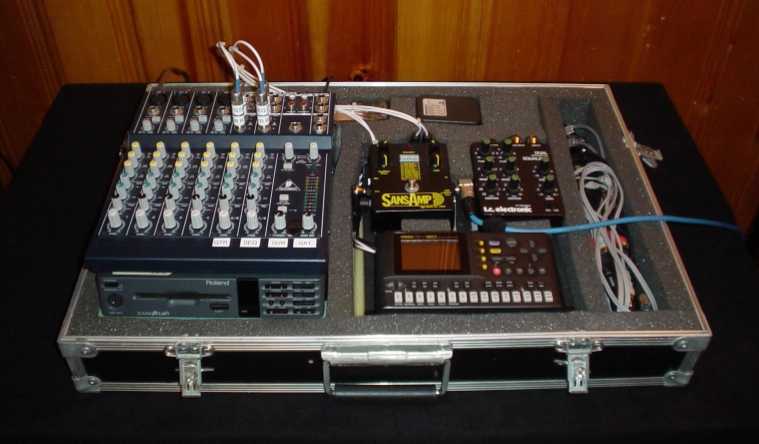 Live with a sequencer
This the rig I've been playing and writing with since 1995. Custom built by yours truly, it contains:
SansAmp Classic - Guitar PreAmp, very versatile and great tube emulation sounds.
TC Electronics Dual Parametric EQ - I use this to tone tweak the SansAmp, very quiet.
Lexicon LXP-5 - Multi Effects unit for my guitar. Very clean sounding, pure reverb/delay trails. Resides underneath the SanAmp and TC EQ units. All program changing is done via the MIDI sequence, no pedals or buttons for me to push!
Yamaha QY20 - Sequencer/Sound Module. A very inexpensive unit that has good sounds in it.
Roland Sound Brush SB-55 - MIDI File player. Plays MIDI files from floppy discs and controls the Yamaha QY20 and the Lexicon LXP-5.
Behringer MX-802A Mixer - A great mixer for the money. Versatile, clean and quiet.